In a recent episode of Watch What Happens Live! host Andy Cohen delved into the unheard antics of 90s boyband the Backstreet Boys.
During a game of Dish In The Dark, Nick Carter and his boyband members were asked to hold flash torches, while Cohen read out "I have never" scenarios, which the boys had to confess to, while turning on their lights and singing along to the "yeEeAaHhHh" part of their single Everbody.
Carter confessed to getting an accidental boner while on stage, which we can only imagine would have happened while grinding with a dancer…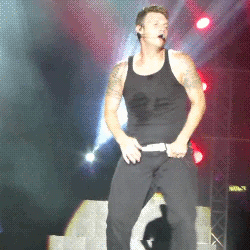 Meanwhile, the back-up singers, Hewy, Dewey and Lewie, admitted to having sex to their own music.
[H/t: Instinct]