Ugh, just when we were thinking we need a break from Ellen and her all-forgiving nature toward people that are persistent in perpetuating hate toward our community, another story reveals she was schmoozing alongside them all along.
Since her leap to defend Kevin Hart, Ellen has since liaised with people who have done more than just put our community down on a worldwide Netflix special. Just last week, the talk show host jumped to the defence of former president and "friend" George W. Bush. Yes, that Bush who fought against gay marriage rights, and opposed the Discrimination Act, and partook in 'war crimes' against Iraq, and holidayed while Haiti hurricane victims waited without homes.
It's now been revealed that Bush isn't the only homophobic president who Ellen is – or at least, was – friends with. Back in 2006, when Baron was born, Ellen gifted the POTUS and first lady with a golden stroller, complete with a chandelier. But wow, if you think that's the epitome of wealth, have you heard of being so rich that morals mean nothing anymore? Clearly, Ellen has.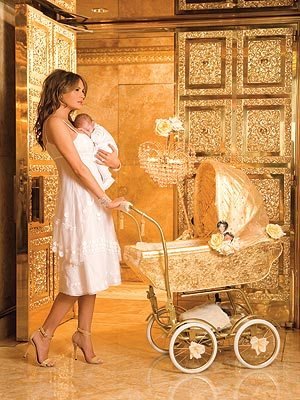 Honestly, I'm so sick to fuck of Ellen.
As someone who's enjoyed Ellen for years, this is quite the 180, but she's clearly more concerned with staying tight with her rich, less tolerant (if not entirely anti-LGBTQ) friends than she is about standing up for our community. Ellen's defence of Kevin Hart was just about bearable because she raised some valid points in that people do change and stand-up comedians do make thoughtless jokes.
However, a "joke" – even a terrible and socially damaging one as from Hart – is one thing, opposing marriage equality and supporting the discrimination of queer people in the workplace (something America could legitimately be fighting today) is another altogether. You don't then get to defend that by comparing it to people who wear fur. We are human beings, Ellen – unless you forgot that while raking in your millions.
Now she was gifting Trump with extravagant presents back in the day. Guessing he's another "friend". Granted, Trump was not a political figure at the time, but was widely recognised as a sexual predator, (even laughing and admitting that on film) and even his infamous "grab her by the pussy" quotes are from 2005. Don't tell me Ellen wasn't aware of that shit, Ellen's like Gretchen Weiners, she knows everything.
But, what is she actually doing?! Sure, she gives away prizes to the people who keep her famous and hands viral internet stars even more attention, but where is the world's most famous lesbian when the cards – and queers – are down? Oh yeah, at a football game with George Bush.
I wonder if she was ever really an activist to begin with or if by coming out on TIME's magazine cover, we just saluted her as one.
Here's a video of Ellen speaking about her friendship with George. W. Bush while victims of the Iraq war suffer in the background.