Sponsored
We wish that more gay roles in Hollywood movies were played by gay actors, BUT when straight guys do get these parts, we're gratified when they fully commit to their nude scenes. 
Check out some of our favorite scenes here.
Alexander Skarsgård and Ryan Kwanten – True Blood: A lengthy, hardcore makeout between stars Kwanten and Skarsgård is what all the fans of this show were waiting for. 
Jake Gyllenhaal and Heath Ledger: Brokeback Mountain (2005)
Two of Hollywood's hottest actors brought a touching tale to life, but they also brought us that infamous lubeless sex scene. Cowboys and spit go together like strawberries and cream 😉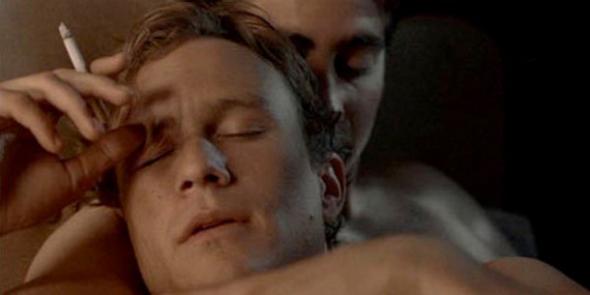 Daniel Radcliffe: Kill Your Darlings (2013)
Harry Potter himself shows off his tight ass and sexy, fuzzy bod while getting topped.
Joseph Gordon-Levitt and Pete Kasper: Mysterious Skin (2004)
We love Joseph's performance in this movie. The story is alternately sexy and disturbing, but you do see his peen at one point.
Ewan McGregor and Jonathan Rhys-Meyers in Velvet Goldmine (1998)
A goldmine of epic dudity, Velvet Goldmine features the perfect butts of Ewan McGregor and Jonathan Rhys-Meyers. Of course, this is in addition to McGregor's on-stage strip tease, where he shows off his peen and a flash of his hole
 Jude Law and Benedict Sandiford in Wilde (1997)
A young Law shows off his amazing nude bod in two gay sex scenes (including one with a full frontal from Sandiford) in this flick about the eponymous famed playwright.
Colin Firth and Nicholas Hoult in A Single Man
Daddy! Firth's character in A Single Man is lusting after the much-younger Hoult. In one scene, we see both men nude while they go skinny-dipping! Click here to check out the NSFW nudity.