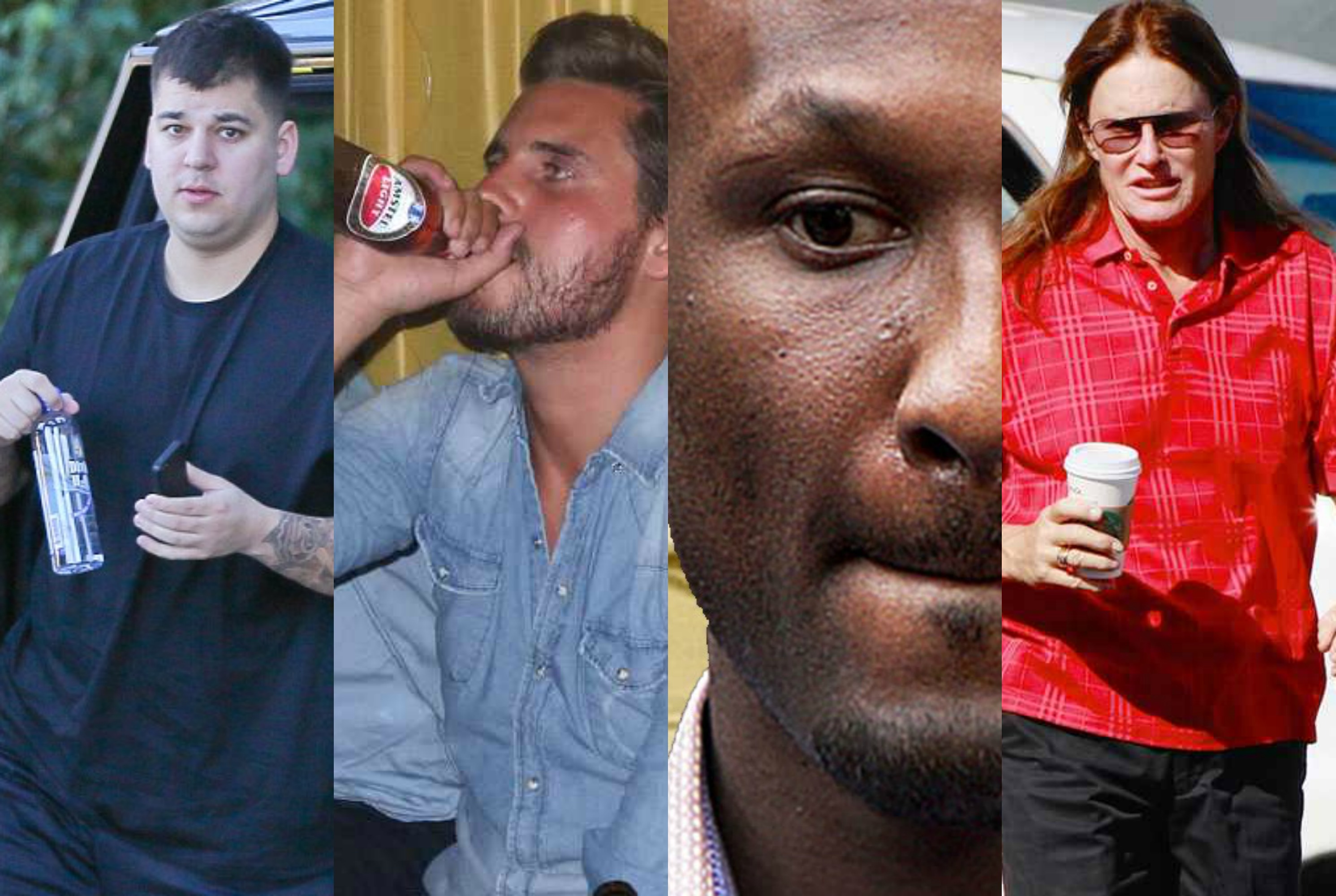 This time last week, Kanye West seemed to be the only male with a relationship to the Kardashian Klan that hadn't endured some serious form of hardship; aside from the initial moment of having digits up his rectum. Appealing publicly on Twitter, West asked Mark Zuckerburg to invest in 'Kanye West ideas' — girl, if he's seen your fashion range, I think we all know those ideas aren't worth a penny. But as the issue circulates online, speculation escalates as to whether the men involved with the world's highest profile family can expect nothing other than misery. Let's reflect on the past incidents…
Rob Kardashian
Rob was once Kim's kinda cute brother. The one that you'd bang after a few drinks, because he was nice enough and fit in the right lighting… Regardless, Maleka could never bring herself to ride her bezzie's geeky bro. He's probably packing, but spends to much time on XBox to know what to do with his actual joystick. Then we gradually saw him less and less. When Rob finally emerged, the world was wondering how he got out without knocking through the front of the house. The pressure of being surrounded by cameras 24/7 had left Rob as a recluse; shying away from the spotlight as spending more time with his friends on Mario Kart, and deep-throating chocolate fingers.
Bruce Jenner
OK, so perhaps the motivational sportsman no longer exists… But he did. And while he seemed like a positive and happy surgical mess of a middle-aged man, very few people knew of the inner turmoil he was suffering, as he hid his real identity as Caitlyn. And while it seems that the world welcomed her and her fabulous transformation with open arms, Caitlyn hasn't arrived in the spotlight – or on that Vanity Fair cover – without criticism; let alone without a driving ticket. At the time the media zoned in on her transition, Caitlyn had been learning to drive with false nails and sent an old lady to her death in a tragic car crash. Luckily, she narrowly avoided prison… as there's no Zac Posen couture on the Block, love.
Scott Disick
It's well known to the world that Scott has countless addiction problems. In fact, it's quite rare to see an episode of KUWTK where he isn't chugging Whiskey out of a showgirl's punani in a tacky Vegas nightclub, before backslapping her and pounding the slot (machines).  It'd be no surprise that he's dragging a hoard of fame-hungry whores back to his room for a group orgy before shitting on the pillow and leaving the maid a $5 tip to clean it up.
Lemar Odom
Khloe's husband and legendary basketball player was the most recent to be hit by the Kardashian Kurse when he was found dosed up to his eyeballs on cocaine in a brothel. Out of all of them, he sounds like he had the most fun, anyway. Odom was airlifted to hospital in Vegas, where Khloe resided by his bed. Fortunately, the sportsman made a recovery against the odds; although he's now left with a brothel bill bigger than Kylie's lips. Still not as big as Kanye's debt though.
Tyga and Kylie are permanently on-off… Tyga better leave before he's on the doll and off the charts. Kendall, honey, you wanna escape unscathed? Be a lez.