This weekend Grindr, like plenty of it's users, went down. Only not in a good way. Gay men opening the app yesterday (Saturday 30th) will have been greeted – not with a handful of dick pics – but rather this error message: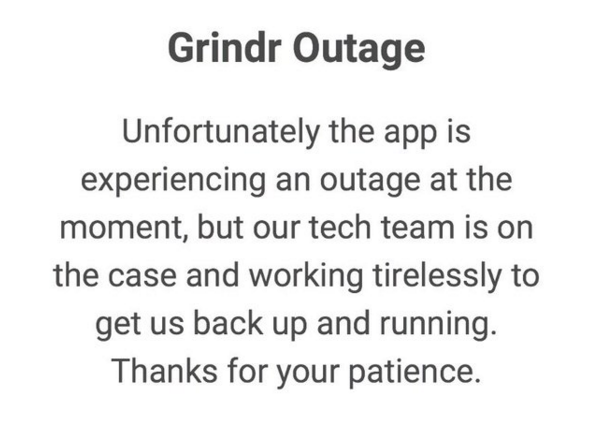 Naturally, users took to Twitter to express their distain, using the hashtag #GrindrDown.


But I can't help but ask; really? Were people actually affected by this app being down for a day? Unless you were at a chill out or an orgy – where the attention from sub-par Grindr users is absolutely imperative – then why on earth would this actually bother you? I went to go on mine, and only remember seeing the message and not being able to get in, after reading about the meltdown on other social media sites. I'd rather go a day without Grindr, than a day without a cup of tea. Would anyone really be put out that they couldn't get a hook-up for the day? Apparently so.
Who knew? I guess it's like really wanting a Big Mac and McDonalds being closed. One user writes, "You guys are complaining about grindr being down like there aren't 10 other apps with the exact same people on them". But hey, if I've been eyeing up this gorgeous Italian shirt in Gucci, don't then tell me there's just as good a shirt in M&S. Regardless though, many people cracked jokes about the reflection this has on our culture; one that we can't survive without two vital things; technology, and sex. And gay men wonder why it's so hard to find a good man… Because they've all been corrupted by a yellow square on their smartphone that plays off of the insecurities about meeting people in the real world.
I'm not knocking that, obviously I go through phases of having the app too – although maybe I just don't appreciate it because I live in Zone 3 and there's never anybody new on my home screen. It goes without saying that things get a bit more exciting around Clapham or central. But if it meant that much to you that you couldn't access your account for a few hours, then maybe you need to assess your relationship with men, yourself and intimacy.
---