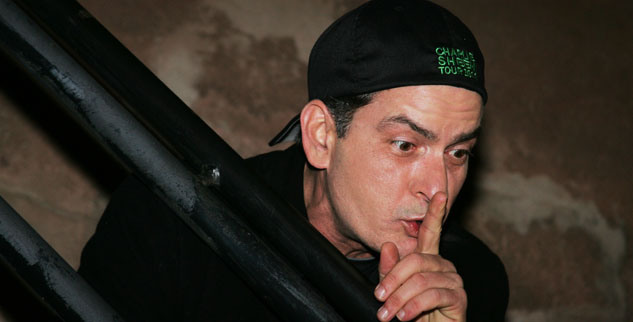 Gosh, as if Charlie Sheen hadn't been through the ringer enough the past week, his drama is unfolding so rapidly, you'd think he was a member of the Kardashian family. While Sheen admitted to having HIV last week, this isn't the 'scandal' we're referring to. It was also reported that Sheen was holding bisexual sex parties at his house, before paying the participants off with $30,000 cash. Not to mention a list of ex-wives that wanted to cry endangerment from the rooftops.
Now, word around the glass table is that there a 90 second footage, of Charlie smoking crack (shocker), and noshing off a bloke, that *went down* in 2011, in a Vegas Hotel room. Obviously. Where else do they let you smoke crack in your room and host orgies? This guy then accused Sheen of giving him herpes, to which he paid out a $20 million settlement. Sounds like a pretty sweet deal to me. Think I'd accept a bout of herpes for that much dollar.
AH, but the plot thickens… In this lawsuit – which was obviously settled out of court – Sheen apparently crafted a "nefarious plot" (wow, somebody's lawyer owns a thesaurus), to get him back to his suite, after ensuring the man he had "no venereal diseases". Is that uncommon? I always say to guys, "hey, what's up? I'm a famous actor, with penthouse suite, bags fulls of drugs and no venereal diseases".
Apparently they engaged in "mutual oral copulation, mutual self-gratification, rubbing and massaging each other, play-wrestling, licking and (unprotected) intercourse." Sounds pretty tame to me. If I was smoking crack, I'd probably end up in a sling somewhere getting bukakied.
But Sheens lawyers claim these were two different incidents. (Not sure if that's better or worse). And that though there is video evidence, it didn't portray what what described above. And apparently destroyed.
The source tells Radar Online that he's bisexual, and all this drama is "more twisted than anyone knows" and involves him spending "thousands of dollars on transsexual hookers". Damn, who needs skeletons in their closet when you've got an abundance of sex tapes? I wouldn't rely on that Hollywood bubble to keep my secrets.
[H/T: Queerty]