Last year we ranked our Top 20 Sexiest Man Candy of 2013, well now it's that time of year again when we rank those men who have been getting you hot under the collar (and wet at the crotch) over the past 12 months. Did your fave make the cut? Check out the climbers, fallers and new entries below…
20. Elliott Wright
Last year: 13 (Down 7)
He was hot new stuff on the block last year, and despite his naked shoot for Cosmopolitan, Elliott Wright is down 7.
19. Nick Jonas
Last year: NEW ENTRY!
It may have been his crotch grabbing, or constant need for gay attention – but either way, it worked!
18. Tyson Beckford
Last year: NEW ENTRY!
He missed out on our top Man Candy last year, but with plenty of hot shots on Instagram, he's here this time.
17. Lee Ryan
Last year: NEW ENTRY!
The former member of boyband Blue (which we fucking love by the way), enters the chart. Hmmm, Skype leak, anyone?
16. Phillip Olivier
Last year: NEW ENTRY!
Kicking off 2014 with a super sexy shoot for Attitude magazine, with a few leaked nudes, we begin to wonder why Phillip Olivier ever disappeared from our radar…
15. Kellan Lutz
Last year: NEW ENTRY!
It's as if Kellan and his infamous bulge suddenly appeared out of nowhere…
14. David Beckham
Last year: 4 (down 10)
Good old Golden Balls is still hanging in there. And he's hanging in his own brand briefs.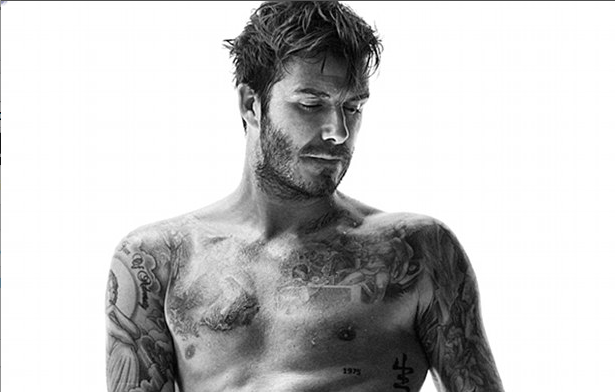 13. Ryan Kelley
Last year: NEW ENTRY!
The hot young star of Teen Wolf had us absolutely smitten when he dropped his joggers for this sexy shoot…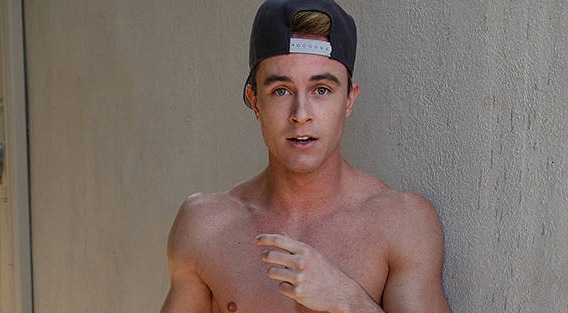 12. Idris Elba
Last year: NEW ENTRY!
Yes, it was those photos that put him on everybody's map this year!
11. David Gandy
Last year: 1 (down 10)
Last year saw Essex-born model Gandy take the top spot after a naked shoot for D&G. And while we admired his fine form for his new underwear range, as well as a cameo in J.LO's music vid, he's down 10.
10. Alex Minsky
Last year: NEW ENTRY!
This time last year, nobody even knew who he was. One little (or not so little) dick pic leak, and here you are on our list of hottest Man Candy. The Australian model has been getting gays and girls in a fluster after even more skimpy underwear shots!
9. Channing Tatum
Last year: 3 (down 6)
He may have slipped down our list, but with papped shots of him looking hot on the beach, and the popular 'Dick Graze' viral, he's still here!
8. Ben Affleck
Last year: NEW ENTRY!
Well, Affleck obviously knows that getting your knob out on camera sends you shooting up the world's sexiest list… HIYA!
7. Jack O'Connell
Last year: NEW ENTRY!
It's been a great year for Jack with a number of films under his belt, obvs a nude scene or two. But we'll always be putty for a sexy scally.
6. David McIntosh
Last year: NEW ENTRY!
THOSE leaked pics of David MacIntosh – LOL. Obviously he looked good, but as reader comments "ain't no man bending over like that for a woman"…
5. Dan Osborne
Last year: 2 (down 3)
Still do his thing (getting naked at any opportunity), with a number of bulge snaps this year, Osborne clings to number 5.
4. Russell Tovey
Last year: NEW ENTRY!
2014 has been good to Essex lad Russell with a role in US drama 'Looking'. We want more nudity, and more sex scenes in 2015.
3. Jake Quickenden
Last year: NEW ENTRY!
Audience's across the UK were totes drooling every Saturday/Sunday night, and not because of their Dominoes pizza. Then he got naked for charity, and again for I'm A Celebrity! We don't even care if his cock looks like a "slow worm" (apparently).
2. Jeremy Meeks
Last year: NEW ENTRY!
Bet y'all weren't expecting this one! But fact of the matter is, when those (alleged) pics of the criminal's schlong appeared on this site – you bitches went crazy! Obvs won't even be on the list next year… Unless he does get picked up by Calvin Klein, as rumours suggested.
1. Zac Efron
Last year: 14 (up 13)
He's been one FINE Hollywood celeb for years now, and he's only getting hotter with age. Even if the leaked nudes were photoshopped, we don't mind pretending they're real. He also brandished a dildo and did cum face.
HONOURABLE MENTIONS:
Michael Hoffman: The totally-not-gay cum-eating body builder just ain't famous enough for our list honey. Anybody can wank on Tumblr, babe.
Jared Leto: Grabbing that junk, not once, but twice is what he'll be known for above all else.
Tom Daley: The world's fave twink will always be a fave with readers, but with no Olympics this year, there was definitely not enough speedo-sashying.
Chris Mears: A sexy shoot in his trunks for Attitude unfortunately wasn't enough – the gays want more Chris!
Jamie Dornan: Last year's number 5 is still super hot, but where was he this year?!